Description
Here are the Major Feature Highlights of Bizi Dig For Teams
1. Organize your NFC campaigns under Workspace
Inside Bizi Dig, you can create multiple Workspaces to organize your campaigns for different clients. Each of these workspaces can be separately connected to payment gateways like PayPal, Stripe & Razorpay and these can be cName mapped to a custom domain. Lead Generation can also be done easily when organized inside a workspace to send the leads to the desired Autoresponder.
2. Create Contactless Digital Business Products
Create Contactless Digital Business Cards which can be modified any time and shared multiple times. Even after writing the Campaign to the card this can be modified. In just a Tap on a NFC enabled smartphone , these Business cards can be shared as a contact card or even as a profile page with the person Tapping.
3. Create Local Business Campaigns
You can create NFC campaigns for various purposes for Local Businesses including collecting reviews, displaying FAQ of a product on Tap, displaying product information, offer, coupons on Tap, campaigns to book appointments, campaigns to help businesses get more app downloads and so on.
4. Add multiple blocks inside your Campaigns
You can add multiple blocks inside your Campaign page with just a click and customize it with your information. You can also organize various blocks under sections.
5. Multiple Campaign Publish Options
Bizi Dig has numerous publish campaign options making it suitable for both Business cards and for local & small businesses.
 Published as contact cards that will trigger opening the phonebook and save contact option.
 Display the campaign page created inside Bizi Dig or any URL
 Open a Google Map Location on Tap
 Initiate a phone call
 Initiate an SMS with prefilled Text
 Initiate a Whatsapp Conversation with prefilled text
 Initiate messenger conversation
 Initiate Telegram Chat
 Initiate Skype Conversation
 Initiate a Discord connection
 Initiate downloading an app from Play Store or App Store
The best part is the campaigns can be updated multiple times and in a snap you can change what needs to happen on Tap.
6. Ability to capture leads
One of the important features of Bizi Dig is its ability to generate leads with just a Tap. You can easily integrate your Autoresponder and collect leads effortlessly wherever you want. You can do this for multiple clients by integrating their respective AutoResponders on their dedicated workspace. You can even send out Automated Email Notifications when there is a sign up through your Campaign.
7. Ability to Publish Campaigns as QR codes
We want you to have one less thing to worry about. In the worst case scenario if you think your prospect may not have an NFC enabled phone, you can even get a QR code for your Campaigns right from inside Bizi Dig. Most Smartphones already have NFC. But we have provided this QR code campaign facility as a backup in case you do not want to use the NFC campaign for some specific reason.
You can display your Business Cards on scan, display your campaign URL or any URL on scan, send SMS, whatsapp, with prefilled text on scan. You can also initiate a phone call on scan
QR codes can also be used to redirect to a map location on scan, display a coupon code, to add a giveaway and so much more!
8. Business Card & Local Business Templates
We have a bunch of Templates for Business Cards in various Niches and even some Local Business Templates, so you can get started with your campaign right away..
9. CName Mapping, SMTP, Autoresponder Integrations, Retargeting Codes & Analytics
Workspaces can be cName mapped to a domain so the campaign URLs can point to your own domain. This is not mandatory. You can happily run your campaigns on Bizi Dig itself without any domain or hosting.
We also have the provision to add your own SMTP and even integrate your favorite AutoResponders. You can also add Retargeting codes to your campaign and Retarget campaign visitors and increase your conversions.
We also have an Analytics section to give you inputs campaign Visitor count and a few other details.
10. Agency Technology to manage clients and Team  campaigns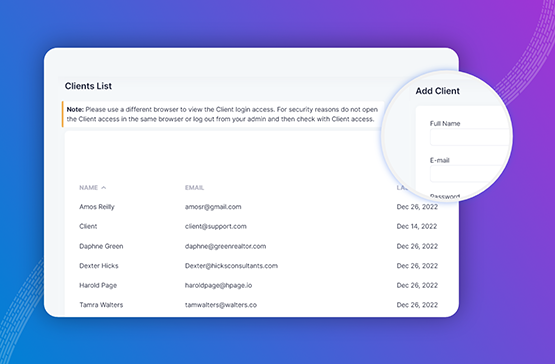 With the in-built Agency/Team Technology you can create Client or team member Accounts and you can assign workspace and campaigns to them. You can help your team with creating Business Card Campaigns or Local Business Campaigns.
Just the Agency Technology alone will help you double your marketing efforts in Bizi Dig today with just 1 client or team member.
You also got a Get client info feature which lets you share a wizard link with your clients to input their personal details that will get updated in the campaign effortlessly. Your clients can also change any detail anytime and anywhere using this get info wizard link. How cool is that?
There are a ton of more features in the app. We have just highlighted the major features to explain the capabilities of the app!
Premium Team Plan Features